SIGN UP for free
Forgot my password
Hello Visitor!
You aren't a registered user here.

Won't you consider registering with our site? You can unlock more features of the site, leave comments and even elect to receive our "Weekly Shoveling" - a summary of all the coolest stories added each week! It's totally free and takes a few seconds. We don't give out your e-mail or personal information to anybody! Try it!
Main
Home Page
BSAlert Radio!

Info/FAQ
Links
Feedback
Fallacy List
Bookmark BSAlert
FreeThought Wiki
BSA on Twitter
Articles
Submit Article (Login required)
Latest Articles
BSA Exclusives
Article Summary
Articles by Main Topic
Most Popular
Latest Comments
Active Articles

Features
Fairness Doctrine
Great Recession
Crypto-currency
Visit the BSA: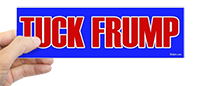 Bumper Sticker Store
T-Shirts & More
Utilities
Have a GREAT day!